Erozul Nano Small Smell Proof Slim Pack Pouch - Black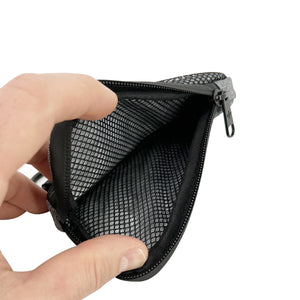 Erozul Nano Small Smell Proof Slim Pack Pouch - Black


Erozul Nano Small Smell Proof Slim Pack Pouch - Black
Free Gifts Included:
2x Mylar Bags 1/8 oz size
SMELL PROOF TECHNOLOGY:

 

Our High Quality Activated Carbon lining prevents smells and odors from escaping the bag. Your materials stay fresh, and smells can't escape! 
WATER RESISTANT MATERIAL:

 

Our outer material is water resistant! We went above and beyond our competitors using thick ballistic woven

polyester 

material, it protects your items and looks incredible!
HEAVY DUTY PADDING:

 

We've built our bags with two layers of thick padding inside to protect your belongings from bumps and shocks. 
The perfect pocket sized smell proof stash solution! The Erozul Nano Small Smell Proof Pouch is an excellent option for a daily carry around bag. Measuring just 3" tall by 6" long, it's small enough to fit in your pocket, but big enough to carry enough for your daily needs! Still boasting our top quality smell proof technology and multiple layers of padding, you can feel comfortable that your belongings will stay safe and secure, while ensuring smells don't escape. 

Use the Erozul Small Smell Proof Pouch by itself, or pair with our other selection of larger bags for a full scope of smell proof storage solutions!
Protective Outer Layer, Padded Inner Lining
Our external Ballistic woven polyester outer layer is water resistant and highly anti abrasive, keeping your bag dry and safe from external forces! Along with two layers of padding inside the bag to protect from drops, bumps, and shocks. While most manufacturers cut corners, we wanted to ensure that Erozul bags can withstand more than our competitors.
Simple, Effective Storage
A minimalist approach to smell proof storage! While the Small Smell Proof Pouch isn't large or multi-compartmental, it serves its purpose flawlessly! Carry around your daily stash in a secure, smell proof bag!
Three Year Warranty
Unlike our competitors who offer less than one year on their warranties, we at Erozul offer a full Three Year limited warranty, which protects against any defects in craftsmanship or manufacturing. We stand behind our products and offer a hassle free, 100% guarantee for up to three years from the purchase date!
To read full warranty information on the Manufacturer website, Click Here