Erozul Legend Smell Proof Back Pack With Combination Lock - Black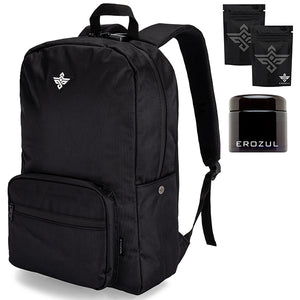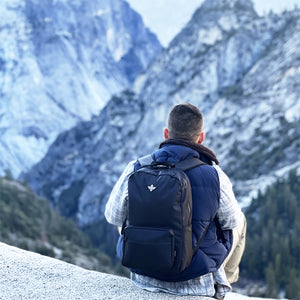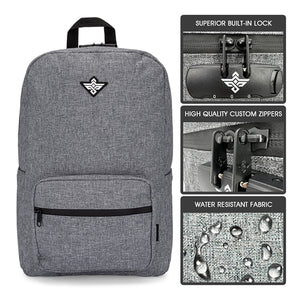 Erozul Legend Smell Proof Back Pack With Combination Lock - Black


Free Gifts Included with Purchase:
2x Mylar Bags (1/4 oz Size)
1x 50ml UV Glass Stash Jar
1x Erozul Lanyard
Features:
SMELL PROOF TECHNOLOGY:

 

Our High Quality Activated Carbon lining prevents smells and odors from escaping the bag. Your materials stay fresh, and smells can't escape! 
WATER RESISTANT MATERIAL:

 

Our outer material is water resistant! We went above and beyond our competitors using thick ballistic woven

polyester 

material, it protects your items and looks incredible!
HEAVY DUTY PADDING:

 

We've built our bags with two layers of thick padding inside to protect your belongings from bumps and shocks. 
COMBINATION LOCK INCLUDED:

 

This bag has a built in combination lock which is simple to use! You can set your own combination, and easily lock your back so your items stay safe from prying eyes!
If you're looking for a large solution for smell proof storage, our Legend Smell Proof Back Pack With Combination Lock will surely meet your needs! Measuring in at 18" Tall by 13" wide with a depth of 5", this multi compartment Back Pack can carry all you need with room to spare!
When we designed our Back Pack, we wanted to blend comfort and functionality to make the perfect bag. The thick, padded straps ensure comfort even with a heavy load in the bag. The large main compartment includes a built in combination lock, as well as a padded slot that's perfect for a laptop. Where most backpacks have a single pocket on the side, we doubled down and put one on each side. 
All of this fits inside our beautiful heavy duty outer lining, embellished with a gorgeous rubberized stamp of the Erozul logo!
Protective Outer Layer, Padded Inner Lining
Our external Ballistic woven polyester outer layer is water resistant and highly anti abrasive, keeping your bag dry and safe from external forces! Along with two layers of padding inside the bag to protect from drops, bumps, and shocks. While most manufacturers cut corners, we wanted to ensure that Erozul bags can withstand more than our competitors.
Carry Everything, Comfortably
With a large main compartment which includes a padded slot for a laptop, a large front compartment, two side pockets and a utility clip, you'll be able to carry everything you need! Whether you're out for a stroll, or hiking for the day - you can rest assured your belongings are safe and sturdy in a comfortable back pack!

Smell Proof, Tamper Proof
As with all Erozul bags, you can rest easily knowing that our Activated Carbon lining will stop any smells dead in their tracks. Never worry about the contents of your bag stinking up the place! And with the built in Combination Lock, you'll know that your goods are safe from prying eyes, as well as noses.

Three Year Warranty
Unlike our competitors who offer less than one year on their warranties, we at Erozul offer a full Three Year limited warranty, which protects against any defects in craftsmanship or manufacturing. We stand behind our products and offer a hassle free, 100% guarantee for up to three years from the purchase date!
To read full warranty information on the Manufacturer website, Click Here
Customer Reviews
Write a Review
Ask a Question
01/27/2022
Robert

United States
I recommend this product
GR8 SMELL PROOF BACKPACK
It's been great simply love this backpack with smell proof designed and built in lock awesome keep up the good work
Customer Reviews
Write a Review
Ask a Question
01/27/2022
Robert

United States
I recommend this product
GR8 SMELL PROOF BACKPACK
It's been great simply love this backpack with smell proof designed and built in lock awesome keep up the good work