Erozul Genesis v2 Medium Smell Proof Case With Combination Lock - Black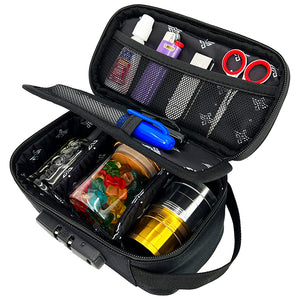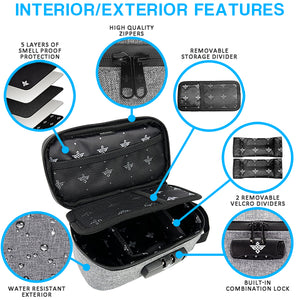 Erozul Genesis v2 Medium Smell Proof Case With Combination Lock - Black


Free Gifts Included with Purchase:
2x Mylar Bags (1/8

 

oz Size)
Features:
SMELL PROOF TECHNOLOGY:

 

Our High Quality Activated Carbon lining prevents smells and odors from escaping the bag. Your materials stay fresh, and smells can't escape! 
WATER RESISTANT MATERIAL:

 

Our outer material is water resistant! We went above and beyond our competitors using thick ballistic woven

 

polyester 

material, it protects your items and looks incredible!
HEAVY DUTY PADDING:

 

We've built our bags with two layers of non woven fabric material inside to protect your belongings from bumps and shocks. 
COMBINATION LOCK INCLUDED:

 

This bag has a built in combination lock which is simple to use! You can set your own combination, and easily lock your back so your items stay safe from prying eyes!
DIMENSIONS: 3.25" x 8" x 4"
Protective Outer Layer, Padded Inner Lining
Our external Ballistic woven polyester outer layer is water resistant and highly anti abrasive, keeping your bag dry and safe from external forces! Along with two layers of padding inside the bag to protect from drops, bumps, and shocks. While most manufacturers cut corners, we wanted to ensure that Erozul bags can withstand more than our competitors.
Organize Your Bag, Your Way
The inner mesh lining includes a padded Velcro enclosure system, with five padded Velcro separators so you can organize your bag, your way! The Large zippered pocket offers plenty of additional storage for loose items. The pocketed separator offers additional storage as well as separates your items for even more organization, And another large zippered compartment is located on the front of the bag. That's a lot of storage for such a light weight and portable bag!
Light Weight, Maximum Storage
Weighing in at just 8.5 ounces, and with overall dimensions of 3.25" tall, 4" wide, and 8" long, this bag is compact enough to take anywhere, but includes enough storage space to hold anything you need! It makes a great travel bag, is perfect for day to day use, or will be your go-to for concerts, festivals and more!
Three Year Warranty
Unlike our competitors who offer less than one year on their warranties, we at Erozul offer a full Three Year limited warranty, which protects against any defects in craftsmanship or manufacturing. We stand behind our products and offer a hassle free, 100% guarantee for up to three years from the purchase date!
To read full warranty information on the Manufacturer website, Click Here