Erozul Equinox Smell Proof Crossbody Sling Bag With Combination Lock - Black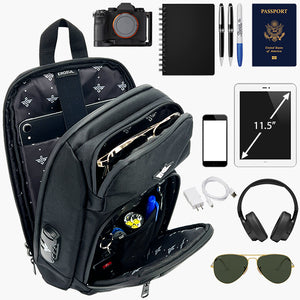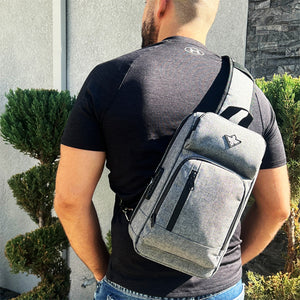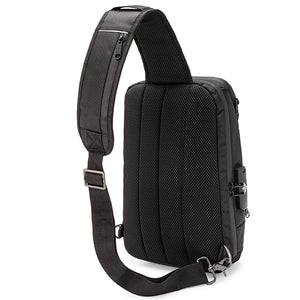 Erozul Equinox Smell Proof Crossbody Sling Bag With Combination Lock - Black


Erozul Equinox Smell Proof Crossbody Sling Bag With Combination Lock - Black
Free Gifts Included with Purchase:
2x Mylar Bags (1/4 oz Size)
1x Erozul Lanyard
Features:
SMELL PROOF TECHNOLOGY:

 

Our High Quality Activated Carbon lining prevents smells and odors from escaping the bag. Your materials stay fresh, and smells can't escape! Read more about our smell proof technology

 

here!
WATER RESISTANT MATERIAL:

 

Our outer material is water resistant! We went above and beyond our competitors using thick ballistic woven

 

polyester 

material, it protects your items and looks incredible!
HEAVY DUTY PADDING:

 

We've built our bags with two layers of thick padding inside to protect your belongings from bumps and shocks. 
COMBINATION LOCK INCLUDED:

 

This bag has a built in combination lock which is simple to use! You can set your own combination, and easily lock your back so your items stay safe from prying eyes!
THREE YEAR WARRANTY:

 

Where most competitors bags are only covered for less than one year, we ensure our bags to be free of defects in craftsmanship for

 3 Years after purchase

!
If you're looking for the perfect daily storage solution, the Equinox is the bag for you! Feature packed and built with purpose, this bag is ready for adventure. Whether you're looking for a bag that's perfect for a day trip, or a weekend excursion, the Equinox is the ideal travel bag.
The large main compartment includes a built-in Combination Lock to keep your belongings safe, it also includes an independent padded compartment which can fit up to a 10.5" tablet or iPad! Lined with our custom internal fabric, all compartments of this bag are soft and well padded to help absorb shocks and bumps, all while looking incredible. 
The single strap includes a built in zipper for carrying important documents like your Identification, Credit Cards, or Cash in an easy to reach location. The strap length can be easily adjusted, and it can be clipped to either side of the bag using the stainless steel clip and hook design to provide comfort and ease of use!
The Equinox includes several smaller compartments on the face of the bag, making it perfect for easy organization and access to your belongings. Store your electronics, cell phone, keys, sunglasses and more in the multiple pockets - The front pocket even includes a built in Key Ring!
All of this fits inside our beautiful heavy duty outer lining, embellished with a gorgeous rubberized stamp of the Erozul logo. If you're looking for a compact bag with big utility, you're going to love the Equinox!
Protective Outer Layer, Padded Inner Lining
Our external Ballistic woven polyester outer layer is water resistant and highly anti abrasive, keeping your bag dry and safe from external forces! Along with two layers of padding inside the bag to protect from drops, bumps, and shocks. While most manufacturers cut corners, we wanted to ensure that Erozul bags can withstand more than our competitors.
Carry Everything, Comfortably
With a large main compartment which includes a padded slot for a Tablet, several smaller compartments on the face of the bag, and a dedicated compartment on the strap for your personal documents, you'll be able to carry everything you need! Whether you're out for a day hike, or taking a weekend trip - you can rest assured your belongings are safe and sturdy in this comfortable sling bag!

Smell Proof, Tamper Proof
As with all Erozul bags, you can rest easily knowing that our Activated Carbon lining will stop any smells dead in their tracks. Never worry about the contents of your bag stinking up the place! And with the built in Combination Lock, you'll know that your goods are safe from prying eyes, as well as noses.

Three Year Warranty
Unlike our competitors who offer less than one year on their warranties, we at Erozul offer a full Three Year limited warranty, which protects against any defects in craftsmanship or manufacturing. We stand behind our products and offer a hassle free, 100% guarantee for up to three years from the purchase date!