Dabix Labs 2 Stick Herbal Butter Maker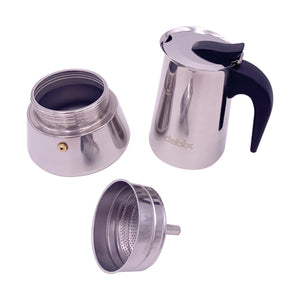 Dabix Labs 2 Stick Herbal Butter Maker


Dabix Labs 2 Stick Herbal Butter Maker
What's Included with the Bundle:
Dabix Labs 2 Stick Butter Maker
Silicone Butter Mold with Lid
DealSociety Silicone Non Stick Mat
DealSociety Silicone Spatula
The Dabix Labs 2 Stick Herbal Butter Maker is the easiest way to make infused butter available! Quickly and easily infuse 2 sticks of butter in just minutes with this incredible device! And best of all, no wires or batteries to fuss with, just put it on the stove top and let it work its magic!
How it works:
Add 2 sticks of butter to lower pot and fill with water to just below the pressure release valve
Add finely chopped herbs to filter (do not pack) insert filter to lower pot
Tighten upper pot to lower pot. place on stove on medium heat, keep handle out of direct heat.
Cook until unit starts boiling (about 7-8 minutes) for stronger potency re run same product 2-3 times never leave butter maker unattended.
See instruction manual (included) for full details!
The easy to clean design and stainless steel construction make it simple to keep your unit clean and working forever! And unlike most products on the market, Dabix Labs offers a limited Lifetime Warranty on their product. 
Enjoy infusing butter with your favorite herbs to create magical foods and delicious desserts, sweet treats and more!
What's Included:
Dabix Labs 2 Stick Herbal Butter Infuser (Upper Pot, Filter, Lower Pot)
User Manual
Customer Reviews
Write a Review
Ask a Question
06/23/2021
Jennifer C.

United States
I recommend this product
dabix herbal butter maker
LOVE IT easy to use and works very nicely
Customer Reviews
Write a Review
Ask a Question
06/23/2021
Jennifer C.

United States
I recommend this product
dabix herbal butter maker
LOVE IT easy to use and works very nicely